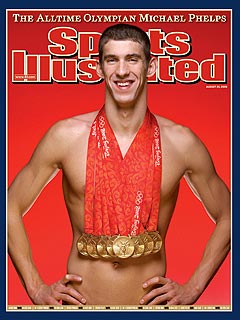 Top 10 memories of the summer Olympics that I hardly watched but the rest of the country did. In no particular order whatsoever.
1.
President George W. Bush slapping women volleyball players on rear end.
2.
Michael Phelps winning a bunch of medals.
3.
Michael Phelps' mom getting too much face time on tv.
4.
Redeem team wins gold. The only story here would have been if they didn't.
5.
Beach volleyball a ratings hit. Can anyone name four players? Quick.
6.
What did Tiki Barber really say during the segment with Jenna Wolfe and Brian Williams? Total medals count? This should be one of those questions that gets answered when you die and go to heaven. That and was there one or two gunman in the JFK assassination plot.
7.
China's pollution.
8.
China's gymnasts and their youthfulness.
9.
Guy kicking ref in the head.
10.
It's over. And now we can get back to football.