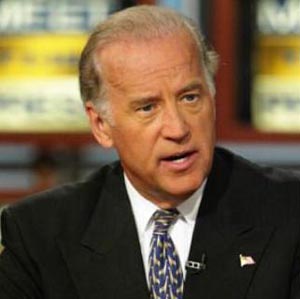 The kindness of former Pittsburgh Steelers owner, the late Arthur J. Rooney, moved Vice Presidential candidate Joe Biden to tears yesterday. After being introduced by the present owner of the Steelers, Dan Rooney, Biden spoke about the 1972 car accident that killed his wife, daughter and injured his two sons. He tells how he returned to their hospital room to find out they were given gifts from the Pittsburgh Steelers.
Here are his comments to the crowd after Rooney, an Obama-Biden supporter, introduced him to a crowd outside of Pittsburgh (Greensburg):
"Sorry to take your time, but Mr. Rooney reminded me of this, Dan reminded me by just seeing him."

"They wouldn't let us have a Christmas tree in, understandably, into the hospital because of concern about fire. So I went to K-mart to get a synthetic tree that would, you know, so I'd be able to bring it in and have something there at Christmas for the kids. One of the few times I was away from their bed for a couple hours, I came back and they looked like they had lighted up my Christmas trees."

"My one boy was in traction, and my other little boy had a fractured skull. And they were happy. They each separately had a football in their bed."

"Excuse me," as Biden breaks down.

"Anyway, and uh, I said guys, where'd you get the ball? And they said 'Daddy, Rocky Bleier brought it for me,' "
The Pittsburgh Post-Gazette
and the local
Fox channel
in Pittsburgh each shared this moment.
FOUND THE VIDEO.
And for more NFL news, check out the home page of The Zone Blitz.