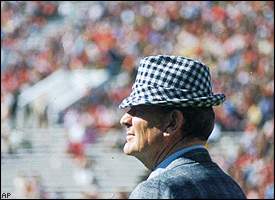 Alabama thespians are eager to play
Paul "Bear" Bryant
, the late Alabama football coach. The
Tuscaloosa News
reports:
The play 'Bear Country' is scheduled to open Jan. 9 and will feature eight performances a week through Feb. 15, said festival spokeswoman Meg Lewis. Casting starts in December in New York, Lewis said, so no one knows yet who will portray Bryant.
Former Alabama player
John Mosley
is among some players and coaches who are sharing their thoughts with the makers of this production. Mosley said, "You're truly skeptical of things like this. The concerns are they do it the right way and tell it the right way and not try to go off on their own mindset and not take what we say and turn it against coach Bryant and the university."