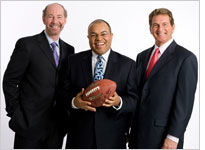 Many hate ESPN's
Tony Kornheiser
on Monday Night Football. Even
The Zone Blitz
has ripped Kornheiser for his man-crush on Brett Favre. But I have to admit I like him on Monday Night Football and hope he stays. One, he is funny. Yes, he can be stupid at times. His wisecracks can be funny at times. And then seconds later, his wisecracks can make you roll your eyes.
Let's take a quick look. After Ravens rookie quarterback Joe Flacco fumbled the football a second time in the third quarter (this time it was recovered by a teammate), Kornheiser said Flacco's "not playing Monmouth anymore." It was a year to the day, that Flacco was leading the Delaware Blue Hens past Monmouth 42-7. Seconds later, when the cameras flashed to a shirtless, heavy-set Steelers fan, Kornheiser, in the midst of talking about something else, said, "And please don't wear that no-shirt look." It was funny, though you probably had to be watching to see the guy's belly. And then just minutes later, Kornheiser asked, "Do you think it's possible that when Flacco made that scramble, that 12- or 14-second scramble, that he started to think that 'I'm invincible. That this is my night. I can do whatever I need?"' "
I am not sure about you, but I was wondering the same thing.
I guess I am saying that I am hope Kornheiser stays where he is. He's funny, and he says things that not all football announcers would wonder -- like was Flacco getting too confident against the Steelers? Flacco probably was. (He should have gotten rid of the ball more often.)
But, with that said, Kornheiser can lay eggs like this one early in the fourth quarter: "You know the only thing missing from this game? Snow. Snow would be great right now." You, the viewer, just sits there and says: okay.
But that's Kornheiser. He's not Howard Cosell. Not sure whether that's good or bad. He is better than Dennis Miller. He's better than most who have worked in that booth. Sorry,
Joe Theismann
(and every other Kornheiser critic).