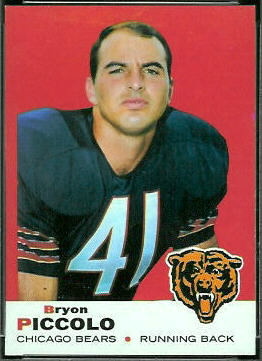 At every NFL training camp, each team has its list of bubble players. One of the most famous bubble players was
Brian Piccolo
. Each season, Piccolo would enter camp on the bubble. Piccolo played for the Chicago Bears from 1965-69. His best was 40 years ago this season, when he took over for the injured
Gale Sayers
in the final five games of the season. Piccolo rushed for 450 yards and gained another 281 yards in receiving over the last five games. He finished the season with 741 yards rushing.
As we all know, Piccolo died of cancer June 16, 1970. He became more famous in death than he was in life because of the movie "Brian's Song."
When training camp rolls around each year, for those old enough to remember the movie, it's hard not to recall scenes from the movie when Sayers and Piccolo became friends. So here is Sayers' speech (by Billy Dee Williams). It's a two-minute clip with a hanky needed for the final 40 seconds.