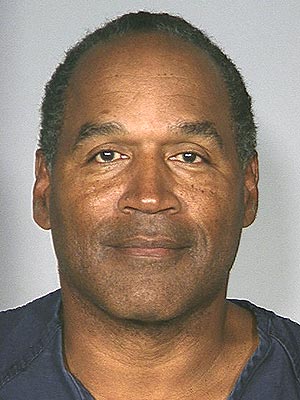 Las Vegas Review Journal's
Norm Clarke
, the best gossiper in the business, said that the Juice was planning an "acquittal party." A Las Vegas jury of 12 threw a wrench into those plans.
Clarke reports
:
O.J. Simpson was so confident that he was going to beat the rap again that he had an acquittal party planned, it was learned.

Simpson associate Thomas Riccio, after an in-studio interview Friday with radio talk-show host Anthony Crivello and retired Las Vegas police detective Phil Ramos, invited them to join O.J.'s entourage at an undisclosed location.

"That's how certain he was," Crivello said during an interview on Saturday, a day after Simpson and co-defendant Clarence "C.J." Stewart were found guilty on all counts, including armed robbery and kidnapping with a deadly weapon.

"He's been predicting a hung jury," said Ramos, who attended the trial and provided expert commentary on Crivello's show, "The Sicilians" on Fox Sports Radio KBAD-AM, 920.
This may seem like an odd question but here goes: Who would go to this party? Who? (Really, I know there are some who would go to it, but that would lead to my next question: Why go to this party? Why?)
Clarke was the same gossiper who
reported last week
that Simpson, who resides in Florida, was thinking about staying in Vegas. As in, like, taking up a permanent residence in the Sin City. Clarke wrote:
One of my spies heard him say, "I've already told my kids, if it were my choice, I'd like to move to Las Vegas."
And while you are busy making a cute remark (a takeoff on the line "What happens in Vegas, stays in Vegas"), I just want to say that I need spies. Having spies is so cool.